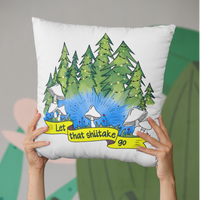 FRESH COLOUR-YOUR-OWN DESIGNS
Finally! The newest designs made just for you and your juciest, most colourful, imagination.
Let your creativity loose!
GET COLOURING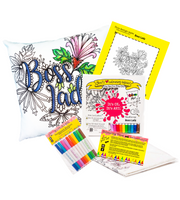 Creative Kits come with everything you need to get crafty.
Creative Kits are your best value for adult and family-friendly DIY craft activity kits!
✔️ Your choice of pillow cover (naughty or nice??)
✔️ Markers to colour in your rad new pillow
✔️ Tips & Tricks Sheet
✔️  Tester Swatch
🎨 Bonus: Colouring Card on Box
Purchase a Creative Kit with pillow cover + markers together and save (hey, every little bit helps, amiright?)  
You'll love colouring again, I swear! 
Get Started
Your Most Popular Designs
GRAB ONE OF YOUR FAVOURITES!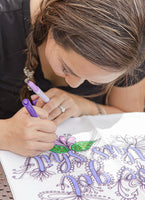 Colouring Tips
Before you get your colour on, read these!
- Colour "soft & slow" to minimize bleeding.  Press markers lightly, don't scrub the fabric, & carefully watch how the ink spreads. Too much scrubbing & rubbing will lead to ink bleeding where it doesn't belong!          
- Get creative! Blend colours to create cool shading effects - try a light & a dark shade of the same colour. You can see lots of examples and videos on our Instagram & Facebook pages! 
- Ooops! Fix small bleeds by dabbing with a cotton swab dipped in rubbing alcohol. Press the spot immediately with a paper towel. Alternate dabbing rubbing alcohol & pressing with a clean cloth, as needed, until colour is lifted.  There are videos of this technique on our Intagram page!                                
- If you're using It's OK. It's ART. brand, alcohol ink based permanent markers, be sure to heat set your item in the dryer for 30 mins on high heat, after colouring. For other brands, follow instructions for use on fabric.   
More tips & tricks on Insta