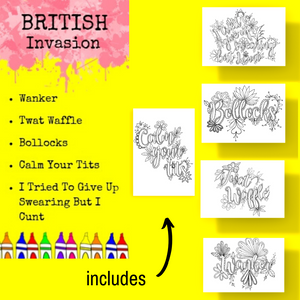 You are purchasing:
Postcard Pack-British Invasion
Five (5) Postcards
Each postcard is 5" x 7"
Uncoated finish that is great for ink absorption.
The fine tip side of the It's OK. It's Art. Colouring Markers are ideal to colour all the tiny details.
 This Pack Contains the Following Designs:
Wanker

Twat Waffle

Bollocks

Calm Your Tits

I Tried To Give Up Swearing But I Cunt

I hand-draw these designs using pencil and ink, then I digitally scan them, edit the designs for clarity, and then they are digitally printed on the postcards and are ready to colour.