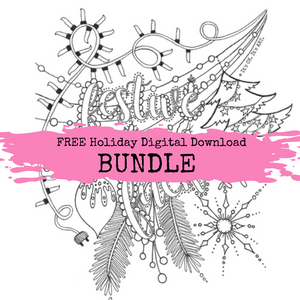 A festive holiday bundle for you to download, colour, and share! Thanks for a great year. I hope my designs bring a smile and some joy this season. 
🎅🎉🎁🔔🎄 👐☃️️🥕🥛🍪🎅
Four (4) FREE colouring sheets to relax and unwind.
 PS: You really only need to "purchase" one (1) of these...then you can print the file at home as many times as you like! 
 This is a DIGITAL DOWNLOAD. 
NO PHYSICAL ITEM WILL BE SHIPPED. You just download the pics right from your computer and print at home! 
DO NOT RESELL or otherwise profit from this art. Basically, don't be a dick (it's Christmas!).   Digital downloads are for PERSONAL USE ONLY.
ALL IMAGES ARE COPYRIGHTED TO It's OK. It's ART.